WW1 hero William Fuller to be honoured in Laugharne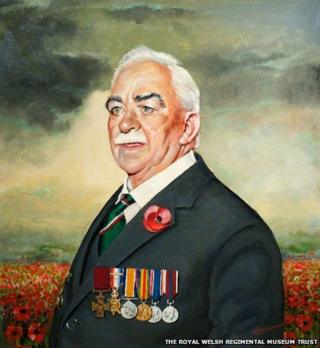 The first Welshman to be awarded the Victoria Cross for gallantry in World War One is to be honoured in his home town in Carmarthenshire.
L/Cpl William Fuller rescued a wounded officer under heavy gun fire and also retrieved his rifle.
A paving stone is to be laid in Laugharne in September, 100 years after his act of bravery.
The Boer War veteran also served in the Home Guard in World War Two and died at the age of 90 in 1974.
All 454 VC recipients from the UK in World War One are to be remembered in their home counties.
The first of 16 in Wales was L/Cpl Fuller, who a month after being nominated for the award was seriously injured by shrapnel while dressing a colleague's wound.
After recovering in Swansea he became a recruiting sergeant for the rest of the war.
'For conspicuous gallantry'
On 14 September 1914, L/Cpl William Charles Fuller of the 2nd Battalion Welsh Regiment, was near Chivy-sur-Aisne in France.
Despite heavy enemy rifle and machine gun fire he advanced to reach the wounded Capt Mark Haggard, nephew of author Rider Haggard, and carry him back to cover.
He carried him around 100 yards to a ridge where he managed to dress the officer's wounds.
L/Cpl Fuller then went back to fetch Capt Haggard's rifle from where he had fallen as he did not want the enemy to get it.
With the help of two others, he managed to get Haggard to the safety of a barn being used as a dressing station.
He remained with Capt Haggard until died later that evening.
His last words to L/Cpl Fuller were "Stick it, Welsh." After the officer died Fuller helped two other wounded officers who had also been brought to the barn.
L/Cpl Fuller received the VC from King George V in 1915.
He had been re-called as a 30-year-old reservist at the start of the war, after serving in south Africa in 1902.
After the war, he ran a fish haulage business in Swansea.
Carmarthenshire council had appealed for L/Cpl Fuller's relatives to come forward to take part in the ceremony and have been delighted with the response.
His great grandson Dean Fuller said: "With everything that's going on in the world, with it now 100 years since World War One started, it's important to remember.
"I was five when he died so I only have a vague memory of him but he didn't talk about it much apparently."
Armed forces champion Councillor Kevin Madge said: "He was a true war hero, there is no greater honour than the Victoria Cross and it is very fitting that a century later Mr Fuller is remembered for his bravery on that day."