Craig-y-Nos prep school in Swansea closes after 94 years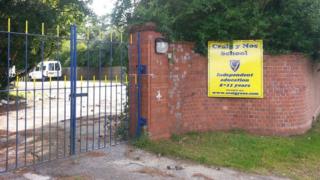 An independent primary school with around 50 pupils in Swansea has closed after 94 years, due to falling pupil numbers.
Craig-y-Nos Preparatory School, in Clyne Common, taught boys and girls between the ages of two and 11.
A statement on the school website said it had closed in July and its affairs were being handled by a liquidator.
Founded in 1920 as a boy's prep school, it had been based in central Swansea before moving in 1983.
The school charged fees of between £5,000 and £6,500 a year and is believed to have employed nine full-time and 10 part-time staff.
Buyers sought
Rupert Mullins of Bristol-based insolvency firm Benedict Mackenzie said falling school rolls appeared to be the reason for the closure of the school.
"The head teacher had done everything he could in the circumstances." he said.
"I was appointed liquidator on 14 July when it was clear there was not going to be any sale of the school.
"We have been looking for buyers since then - there is still interest in the property and a similar use cannot at this stage be ruled out."