Policeman told girlfriend of confidential drugs tip-off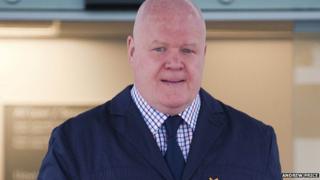 An ex-police officer who used confidential information to tip off his girlfriend about her brother being reported for drug offences has been jailed for 17 months.
Robert Wyn Jones, 50, of Ruthin, admitted accessing and passing on details of a police report.
It followed a Wrexham pub landlord telling officers he had suspicions that customers had drugs on them.
Mold Crown Court was told he was "stupid" and "went off the rails".
Jones also admitted unlawfully obtaining and disclosing personal information of a woman he met at the police station.
He committed the offences in 2012 during "a moment of madness" when he was working as a custody sergeant at a police station.
After the landlord had reported his concerns over drugs, Jones looked up the information and passed it on to the sister of one of the suspects, because the pair were having an affair.
'Self-destruct button'
Two months later the suspect went to the same pub and said he had a copy of the event log created by the police after the landlord's tip-off.
Bernadette Baxter, defending, said Jones had an unblemished 30-year career but acted out of "pure stupidity" after going off the rails during a three-month period.
She said Evans had been going through a bad patch and pressed the "self-destruct button".
Judge Rhys Rowlands said: "Police officers are trusted and given significant powers.
"Those who breach those powers must expect to go to prison."
He said Jones's behaviour was "reprehensible" and added: "You abused that trust and let down both your fellow officers and the general public."
The court heard the tip-off regarding claims of drugs was not passed directly to the suspect.
Evans accessed the information regarding the second woman because he did not want to be associated with a criminal.
North Wales Police's professional standards department said it would continue to act to prevent misuse of police information.
"Cases of this nature can damage the trust and confidence that members of the public have in the police," said Det Insp Tim Green.
"This demonstrates our resolve to thoroughly and rigorously investigate any instance where the integrity of our staff and public confidence may be called into question."