Naz Malik denies spending Awema charity cash on kitchen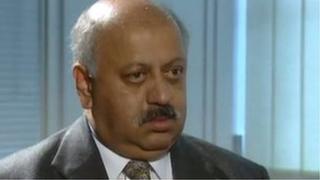 A former race equality charity boss has denied using the organisation's funds to buy a £5,000 kitchen.
Naz Malik, 65, is accused of swindling around £15,000 from the All Wales Ethnic Minority Association (Awema).
He told the jury at Swansea Crown Court that a cheque of more than £9,000 was to be used to pay for future travel expenses and denied spending it on a kitchen at Ikea.
Mr Malik denies three charges of fraud.
He is accused of fraudulently using two pre-signed cheques with a total value of nearly £12,000 to reduce his personal debts, but claims the payments were to cover expenses.
Prosecutor Jim Davis said an examination of bank statements between the dates of the two cheques being deposited suggested Mr Malik was only entitled to claim back £1,140.
Mr Malik said the money was to be used as a float to help pay for future expenses including trips abroad, but the court heard no significant foreign travel followed.
Mr Davis also pointed out that Mr Malik had spent £5,000 in furniture store Ikea.
Blank cheques
Asked what he bought, Mr Malik said he could not remember.
"It was a kitchen", Mr Davis said. "You see you were getting a cheque to clear your credit card. You weren't using it as a float to cover your travel - you were using it to pay for a kitchen."
"I refute that," Mr Malik replied.
The defendant is also accused of dishonestly arranging for the charity to pay more than £3,500 for a life assurance policy taken out on behalf of his wife.
Mr Malik claims the policy was part of his pension scheme with Awema and he took a salary sacrifice to pay for it.
Earlier, Mr Malik was asked by the prosecutor if he accepted that the charity's board did not know about the cheques.
Mr Malik replied: "There was absolutely no need to take my expenses to the board, it's never been done, not once."
Mr Malik was also asked about the practice of keeping blank cheques, already been signed by Awema's treasurer, at the charity's office.
Prosecutor, Jim Davis, said "[The treasurer] shouldn't have pre-signed cheques should he?"
"Well no - with the benefit of hindsight he shouldn't have but I think it's quite common", Mr Malik replied.
"It creates a system that's open to abuse?" Mr Davis asked.
"Potentially, yes," Mr Malik responded.
However, he explained the treasurer would regularly check the stubs in the cheque books to see what payments had been made.
The trial continues.