Row sparked over Swansea's Parc Tawe redevelopment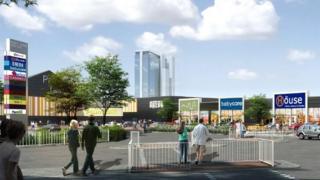 A row has broken out over the future of Swansea's Parc Tawe retail outlet.
Developers Hammerson have been given permission for a £10m revamp of the site, but said a restriction blocking it for 12 years from approaching well-known stores is not acceptable.
Swansea council said the restriction was to protect its own plans for the city centre.
But Hammerson, which last year pulled out of a £1bn project in the city centre, is now reconsidering the plans.
"The health of the city centre centre has got to be our primary concern because it is also at the heart of the Swansea Bay City Region," said council leader David Phillips.
"We are looking for a solution that's unique for Swansea. The Hammerson [Parc Tawe] development wasn't an easy fit with our aspirations for the development of the city centre."
'Torpedo'
Hammerson, which is behind Birmingham's Bullring and Bristol's Cabot Circus, has focused on Parc Tawe since pulling out of the main city centre development last October after five years.
It had to amend designs for Parc Tawe - which is a gateway to the city centre and home to Plantasia - before councillors would back the scheme.
And when they gave it approval, it was on condition that the developer could not approach almost 80 high-street companies for 12 years.
Hammerson said five years would have been acceptable, but 12 would lead to the site losing value.
Mr Phillips said: "We wanted to ensure this development didn't torpedo any city centre development before it gets off its feet.
"It's a pity that Hammerson didn't show the same energy when they were our agent as they have with their own development."
'Considering our options'
Hammerson's development manager Russell Beresford, defended the firm's actions.
He said: "It's a strange day when a leader of a council desperate for investment chooses to unfairly criticise a major landowner and potential investor in the city, and we very much hope his approach doesn't put off anyone considering investing in the city.
"We remain very keen to invest in Parc Tawe but as we told the committee we can't do so with the conditions attached to the permission; we are therefore considering our options."
The council is looking at ways to redevelop the St David's and Quadrant part of the centre area, and will hold a conference in October.
Swansea has struggled to find a way of successfully regenerating the centre following the collapse of the long-time proposed Castle Quays development in 2004 which suffered several false starts, including with Hammerson.