Captain Beany tattoos to raise funds for child to walk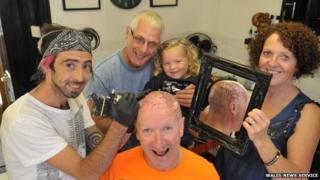 How does a man called Captain Beany who has painted himself orange and turned his home into a shrine to baked beans celebrate a landmark birthday?
Barry Kirk, from Port Talbot, is having 60 beans tattooed on his head as he turns 60 to raise funds to help a child with cerebral palsy learn to walk.
The family of three-year-old Marlie-Grace Roberts said they were delighted with his help.
It is the latest stunt from Mr Kirk, who stood at the general election.
He first adopted his superhero persona in 1986 when he spent 100 hours sitting in a bathtub of beans for charity.
Since then he has embraced the bean-loving lifestyle with gusto, while also working at times as an impersonator of rock star Bono from U2.
He is now looking for £60 sponsorship for each bean to be tattooed on his head with the aim of raising more than £3,000 towards an operation to help Marlie-Grace, who is from his home town, walk unaided.
"Having the bean tattoos is just another step in my lifelong love of the baked bean," said Mr Kirk.
"Now everywhere I go people can see that I am full of beans - with the tattoo on my head."
Marlie-Grace's grandparents Alan and Joanne Roberts have bought a pair of Mr Kirk's baked bean tattoos to become the first "beanyfactors".
"Barry came to us to tell us about the crazy idea and we decided to support it," said Mrs Roberts.
"Barry has been amazing and so supportive since we launched our appeal.
"We now regard him as a part of our family. He is a truly amazing man."
Captain Beany's political career - as leader of the New Millennium Bean Party - includes the distinction of pushing UKIP into last place in Aberavon in the 2010 General Election.