EE apologise over Laugharne mobile signal loss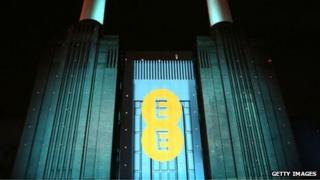 Mobile phone customers in a Carmarthenshire town have been without a signal for nearly two weeks after storms damaged a mast.
EE customers have been unable to make calls or texts since strong winds and torrential rain hit Laugharne in the wake of Hurricane Bertha.
Despite a flood of complaints, the mast has still not been fixed.
EE said it was investigating "as a matter of urgency".
Customers said they were outraged at the time it is taken to fix the problem, which they claim has also left them unable to make emergency calls.
Sue Morgan said: "It's been somewhat unbearable. The reception has been down since 10 August. I have rung up to complain and there have been four or five different excuses - none of which are true."
"My husband has a heart condition and what would happen if something was to happen to him when I'm out and about? We need to be able to make emergency calls.
"We as a village are quite miffed."
Customer Sasha Pearce said: "It's disgusting. We've got a disabled daughter and we need our mobiles to be in constant touch.
"I've been on the phone again to them today and I was on hold for 44 minutes before I hung up."
'Absolute rubbish'
"Last week I phoned them and I was told the landowner would not let them on the land. Then I was told there wasn't a problem.
"Then I was told it was a no signal area anyway."
Teresa Orford, of Broadway Caravan Park, said she had to let guests use her home phone.
"I've complained four times and been to the EE shop in Carmarthen. I know we didn't have mobile phones years ago but I couldn't tell you where the nearest telephone box is," she said.
Landowner Liz Handford who has two masts on her land, one belonging to T-Mobile and Orange - part of EE, said claims she had not allowed the firm access to them were untrue.
"They have unlimited access - they always have done and turn up when they want," she said.
An EE spokeswoman said it was investigating the matter as a matter of urgency, but said customers should still be able to make emergency calls even if its service was down.
"We apologise for the inconvenience caused while we work to fix the damaged equipment," the spokeswoman said.