Swansea's £5.5m homes plan for SA1 waterfront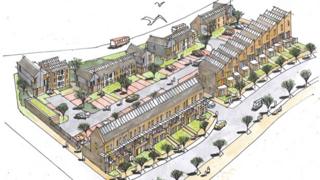 A £5.5m new housing development has been unveiled for Swansea's waterfront.
As well as apartments, 27 houses are planned for the SA1 site around Prince of Wales Dock.
Coastal Housing Group, a not-for-profit housing group, hopes to start work in 2016 after going through the planning process.
It already has nearly 150 apartments at SA1 and has bought another 1.5 acre site off the Welsh government.
"It will provide much needed homes for rent and for sale in what is becoming one of the most sought after locations in Swansea," said director of development Gareth Davies.