Couple jailed for burgling epileptic woman having seizure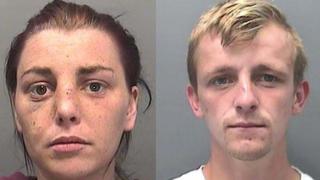 A "despicable" couple who took a woman's keys while she suffered an epileptic seizure and then burgled her Swansea home have been jailed.
Louise Boyce and James Thomas stole Kayleigh Nicholas' keys while she lay shaking on the ground outside her home.
Boyce, 25, of Cwmrhydyceirw, and Thomas, 18, from Clase, admitted burglary and were jailed for 18 months at Swansea Crown Court.
Judge Paul Thomas said there would be public revulsion at the offence.
"It is incredible, however it is dressed up," he added.
"Instead of seeking medical help for her you took the chance to enter her flat and steal her belongings."