Awema: Naz Malik 'put Wales rugby tickets on expenses'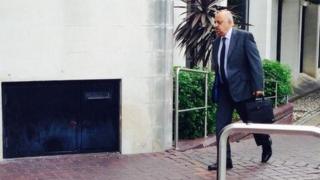 A man accused of defrauding a charity claimed expenses for four Wales rugby tickets, cat litter and pet food, Swansea Crown Court heard.
Nasir Malik, 65, denies swindling more than £16,000 from race equality body the All Wales Ethnic Minority Association (Awema).
It folded in 2012 after funding was withdrawn.
A jury previously heard the former chief executive used charity funds to pay off a £3,500 credit card debt.
The court was told Mr Malik knew he was not entitled to the money.
However, his defence argued the cheques he paid into his account were for expenses he was owed. Mr Malik also claimed he was entitled to take out a life insurance policy at the charity's expense because of a "salary sacrifice".
'Wanted money back'
On Friday, Awema's former finance director Saquib Zia, who received Mr Malik's expense claims, confirmed a £297.25 claim for four Wales rugby tickets.
He said: "Mr Malik took some of Awema's board members to the match... and wanted to claim the money back."
The court was also told Mr Malik spent £83.15 on a staff Christmas party in 2009, which was held at his house in Park Place, Brynmill.
Two items which appeared on the receipt, which Mr Malik was reimbursed for, were cat food and a cat litter.
Awema formed in 2000 and aimed at promoting racial harmony.
It began as a small organisation but later rapidly grew in size after securing funding for several projects.
Pre-signed blank cheques
Before it folded, Mr Malik was on a salary of £52,651 and he was allowed to claim for "reasonable" expenses such as travel.
Cheques for more than £1,000 paid from Awema's accounts had to be signed by two people, Mr Malik and Awema accountant Stephen Matthews.
However, because Mr Matthews worked full-time at Swansea council he gave a stack of pre-signed blank cheques to Mr Zia for safe keeping, the court heard.
The prosecution claims Mr Malik took a blank cheque out of a locked desk drawer while Mr Zia was off work for the day.
Mr Zia confirmed there were two sets of keys for the drawer. One was kept by him and the other by Mr Malik's daughter, Tegwen, who was also Awema's operations director.
The court has previously heard Mr Malik paid two cheques into his own account. The first, submitted in March 2010, was for £2,500. The second, deposited five months later, totalled £9,340.36, which at the time was the exact outstanding amount on Mr Malik's HSBC credit card.
The third fraud charge relates to him taking out a life assurance policy in case of his death, which would have seen his wife Bronwen receive a £120,000 lump sum. Monthly direct debits of almost £90 came from the charity's accounts between 2008 and 2012.
The trial continues.