'Extreme risk' Danbert House, Morriston, repairs order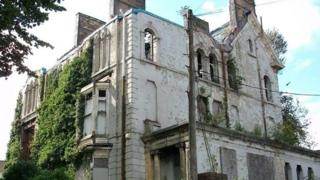 The owners of an historic building at "extreme risk" have been given three months to pay for emergency repairs or see it sold compulsorily.
Swansea council named Danbert House in Morriston as one of 20 properties which raised conservation concerns.
The local authority said it is owed thousands of pounds for work it has carried out on the Grade II-listed property.
The authority owns 15 of the 20 buildings it says are at risk.
The large Victorian town house is one of the privately-owned buildings the council says it would like to see brought back to sustainable use.
It is understood the owners live in Australia and the section 103 repairs order has been posted to them.
Sybil Crouch, cabinet member for sustainability, said: "We have a strategy that's aimed at breathing new life into at-risk listed buildings across the city and a lot of progress is being made.
"This is especially the case with landmarks and buildings that we own but we are also in positive ongoing discussions with a number of private owners too.
"Sadly, this hasn't been the case at Danbert House despite our repeated efforts to remind the owners of their responsibilities.
"Serving this notice on the private owners shows how serious we are about preserving our heritage and bringing buildings of this nature back into sustainable use to benefit the communities where they're located.
"Listed buildings are important - not just because they provide character and a sense of place, but also because they also help connect us to our past."
The authority faces £45m budget cuts over the next four years and wants to secure grants and any spare conservation cash to fund repairs.
Other privately-owned buildings deemed at "extreme risk" include the Palace Theatre, Capel Salem (Capel y Cwm) in Bonymaen, Allt-y-fanog in Rhyndwyclydach and Caer Eithin engine house at the Berthlwyd Colliery.