First memorial unveiled to Pembrokeshire village's war dead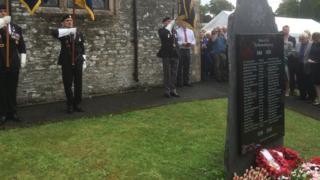 Soldiers from a Pembrokeshire village who fell during both world wars have finally been honoured with a memorial.
As the 100th anniversary of World War One is marked, the ceremony was held in Eglwyswrw.
The 6ft (1.8m) granite tablet at St Cristiolus Church has the names of 25 men engraved on it.
Bishop of St Davids, the Right Reverend Wyn Evans, conducted the service, which was attended by relatives of the soldiers listed.
It is the first time the village has had a war memorial dedicated to those who lost their lives, and Steve John, who unveiled the tablet, called it a "historic occasion".
Eglwyswrw's Heritage Society paid for the memorial which cost about £2,000.