Pair stuck in boat rigging while parasailors in Cyprus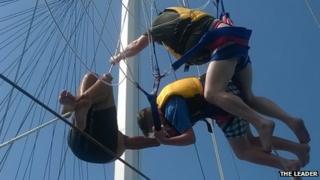 A father and son were left dangling from a boat's rigging after a holiday parasailing accident left them suspended 25ft above deck.
Richard Brown and his 14-year-old son Aled from Pontardawe were left stuck after the driver of the speedboat towing their parachute made a mistake.
They were stranded for about 30 minutes while on holiday in northern Cyprus.
Mr Brown told the Leader: "I knew we were in trouble when I felt a sudden jerk and we were hanging in mid air."
Instead of soaring over the pleasure cruiser, the parachute became stuck on the mast, leaving the pair dangling.
Mr Brown, who was carrying the weight of his son's body as well as his own from the strapping, suffered bruised ribs and arms.
Aled's mum Sharon Brown said: "I told them not to go."
The couple's two other sons, Geralt, 19, and 16-year-old Rhodri, stayed at home.