Councillor quits over Bryn Parry Jones' unlawful payments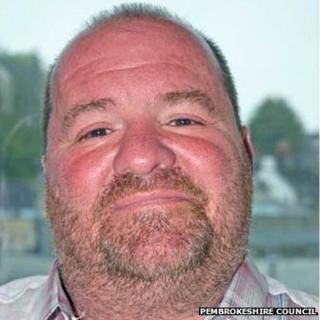 A Pembrokeshire councillor has resigned from the council's ruling group after the chief executive was not reprimanded for unlawful pension payments.
Bryn Parry Jones is being investigated by Gloucestershire Constabulary for unlawful salary supplements made in lieu of pension contributions.
In July, the council voted to not to reclaim the money; Stephen Joseph said this inaction had "pushed" him to quit.
Council leader Jamie Adams said he was sorry Mr Joseph has resigned.
A Wales Audit Office (WAO) investigation carried out earlier this year ruled Pembrokeshire and Carmarthenshire councils acted unlawfully by letting Mr Parry Jones and Carmarthen chief executive Mark James opt out of the pension scheme to avoid tax payments.
An initial investigation by Gloucestershire Constabulary found no evidence to suggest any criminal offences, but a new police inquiry was launched when fresh information emerged.
Earlier this month, Pembrokeshire council confirmed no further action would be taken against Mr Parry Jones and another unnamed senior officer involved to reclaim a gross sum of £45,606.
That decision has led Milford Haven councillor Mr Joseph to resign and not be affiliated with the ruling group.
'Misguided loyalty'
He told BBC Wales: "I can't condone what they are doing, they are protecting him that's why I'm going."
"I've spent a while trying to convince them [the ruling Independent Plus Group] that loyalty to Bryn Parry Jones is misguided - I've tried hard to make them see sense."
"The average councillor in the IPG totally agrees- why don't they do something about it?", he said.
Mr Joseph said politics and self-interest were to blame.
"I think that other cabinet members are worried their positions will be questioned," he said.
Mr Joseph said the chief executive was responsible for a number of "mistakes" that had recently plagued the council, including the case of a sacked youth worker who later went on to abuse a boy.
"I don't accept that the chief executive wasn't aware of the situation with Mik Smith and I don't accept that he is immune from disciplinary procedures that all employees are bound by," he said.
"He should be suspended while an investigation goes on."
Mr Adams said: "I didn't always see eye-to-eye with him [Mr Joseph] but I respected his commitment to achieve a more positive position for the residents of Milford Haven, which I share.
"Needless to say, I don't accept the picture that Steve has sought to create in his letter to all councillors."
Unison, Unite and GMB union members are due to protest at the council offices on Friday to "demonstrate their anger" that Mr Parry Jones had not been suspended pending the police investigation.