Water voles to be released in Pembrey to boost survival chances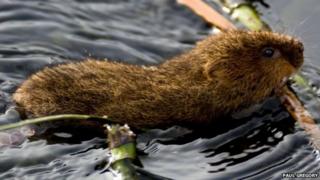 About 100 young water voles will be released in west Wales this week in a bid to halt the population decline.
Natural Resources Wales (NRW) will introduce the animals at nature reserve at Ffrwd Farm near Pembrey.
It is a designated Site of Special Scientific Interest (SSSI) and was chosen as it is an excellent habitat for water voles.
NRW biodiversity officer Hilary Foster said this will help to improve the water voles' survival chances.
The UK's population of water voles has fallen by up to 95 per cent since the 1960s due to a loss of habitat and being hunted by American mink.
Voles not rats
Water voles live in the banks of slow moving waterways
Their burrows have many floor levels that hinder flooding, as well as nesting chambers and a food store
Water voles are often mistaken for rats
Ratty, in Kenneth Grahame's 'The Wind in the Willows', was actually a water vole
Source: BBC Nature
Ahead of the release, NRW and conservation groups cleared ditches to make them suitable for water voles and trapped mink in the area.
Ms Foster said: "From here the voles will be able to disperse into the surrounding landscape to re-colonise the ditch systems where they were once common."
The voles being released are the offspring of a small number of water voles captured from a site in Llanelli in the autumn which were kept in captivity over the winter and paired up to breed in the spring.