Tenby seagulls thwarted by bird-proof rubbish bags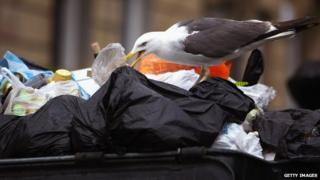 Seagulls rifling through a seaside town's litter are being thwarted by a new range of bird-proof rubbish bags.
A two-month trial of the durable, reusable sacks is proving to be a hit with residents of Tenby, Pembrokeshire.
The move was prompted by the cost, nuisance and poor image created by bird-strewn rubbish in the resort town.
The bags could be offered to residents in other parts of Pembrokeshire as council officials assess the cost-effectiveness of the scheme.
Tenby town clerk Andrew Davies said there had been a very positive response to the sacks distributed to around 100 homes within the medieval town walls.
"All those who have had these reusable bags think they're brilliant," he said.
"A lot of these houses don't have room for wheelie bins, but the bags are easily storable."
The trial is thought to be the first of its kind in Wales although similar bags have already been used in tourist areas of Cornwall and Devon.
Pembrokeshire county council, which paid for the bags, will now consider whether to offer them to other parts of Tenby and elsewhere in the county, although there may be a charge.
Huw George, council cabinet member for environmental services, said: "We have some really rampant gulls in Tenby, viciously attacking people with ice cream or chips, so a normal plastic bag is nothing to them.
"These bags are popular with residents and very effective. There's a cost involved, but if it means we don't have split bags, extra rubbish to clear and a poor perception of the town it's an investment worth making."
The trial officially ends on July 31 but residents with the bags will be allowed to keep using them.