Swansea beach emergency landing pilot did 'excellent job'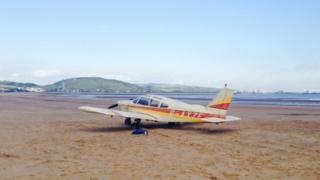 The owner of the light aircraft which made an emergency landing on a beach at Swansea said the pilot did "an excellent job".
Derek Clyde, 60, from Kidwelly said the plane was flying from Swansea Airport to Popham Airfield in Basingstoke when the pilot, a former RAF serviceman, noticed something was wrong.
There were two passengers on board who are friends of the pilot.
Mr Clyde said: "No damage to people, that's the main thing."
The plane was flying at about 2,000 ft (600 m) when the pilot noticed a problem, prompting him to turn and land on the beach.
Mr Clyde said the cause of the accident seemed to be an oil leak in the engine.
South Wales Police said three people were onboard the plane which came down at Jersey Marine at around 16:00 BST.
According to Mr Clyde, the Air Accident Investigation Branch has been informed but as there is not a lot of damage to the plane and there are no injuries, they will not be investigating.
The South Wales Evening Post said construction workers at the site off Fabian Way reported seeing a light aircraft with smoke coming from it disappear behind sand dunes.
Mid and West Fire and Rescue Service said one crew from Swansea attended but no action was required.