Panels unveiled at Swansea's Brangwyn Hall after revamp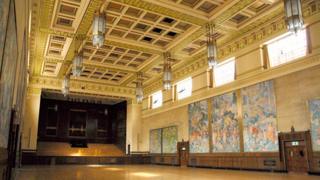 Seventeen decorative panels by the artist who gave Swansea's Brangwyn Hall its name are back on display after a £6m renovation of the building.
The panels had been under wraps during more than a year of work on the Grade I listed concert and conference venue.
World War One war artist Sir Frank Brangwyn was commissioned to produce the panels for the House of Lords.
But in 1933, peers decided the images from around the British empire were too indelicate for their chamber.
Offers to house the panels then came in from around the world, but Swansea became their home.
Brangwyn Hall opened in 1934 and enjoys iconic status in the city after surviving the Blitz during World War Two.
The only other time the panels were removed from view was during that conflict when Nazi radio propagandist Lord Haw-Haw referred to the hall as being a Luftwaffe target during the Swansea Blitz.
The modern-day reopening was marked with a concert by Elvis Costello last week.
The work at the hall included improved disabled access, upgraded heating and lighting and specialist stage equipment for shows and concerts.
Councillor Nick Bradley, Swansea council's cabinet member for regeneration, said: "The historic panels are key features of the Brangwyn Hall and an important part of Swansea's heritage.
"This is why expert art conservators were brought in during the hall's restoration to put in place a scheme to protect them during refurbishment works."