Singleton Hospital criticised over baby's E. coli death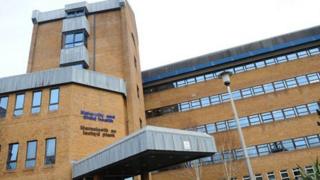 A coroner has criticised a health board after two babies died from E. coli at a Swansea hospital.
Five-day-old Hope Erin Evans and another child - called Baby A1 - died at Singleton Hospital after contracting the antibiotic-resistant ESBL E. coli.
Hope's inquest heard Baby A1's mother was diagnosed with the bug after having IVF treatment in India, which was in her medical notes.
Coroner Colin Phillips said the incubators were too close together.
Hope, born prematurely at 26 weeks, and Baby A1, born at 27 weeks, were 2m apart in the neo-natal unit in November 2011.
British Association of Perinatal Medicine recommends a 3m distance.
Even though Hope weighed just 730g she was given a 75% chance of survival, but her condition deteriorated within 72 hours and she died five days later.
'Poor and outdated'
Since then the unit has had a multimillion pound refurbishment and "major improvements" had been made but Mr Phillips said he would still be writing up a Prevention Of Further Deaths report.
Among the problems he identified was a key hospital document not asking medics to check whether their patients had sought treatment outside of the UK.
Doctors told the inquest had they known Mother A had E. coli they would have done things differently, such as put her and her twins in isolation.
Mr Phillips described the neo-natal unit's facilities, before refurbishment, as "poor" and "outdated".
"The number of sinks were inadequate for the number of cots and queues formed at peak periods," he added.
'Substandard'
"The space between cots did not meet current standards and a central table was used for medical notes."
The inquest also heard an "Inter Hospital Transfer Documentation" was not completed when the mother was transferred from Prince Charles Hospital, Merthyr Tydfil, to Singleton prior to birth.
Following investigations by the health board and watchdog Healthcare Inspectorate Wales, it is unclear when, where and how Hope was infected.
But it was unlikely it had not come from an outside source.
Mr Phillips recorded a narrative verdict, saying Hope died from sepsis as a result of contracting E. coli ESBL.
Mother A's second child survived and was discharged from hospital on 29 December 2011.
After the hearing, a spokesperson for Abertawe Bro Morgannwg University Health Board (ABMU) said it has since spent £3.2m on the neo-natal unit to provide a "very high quality environment for these precious babies".
He said a special isolation room has also been created for babies to "greatly reduce the risk of cross infection and also protect those very vulnerable babies whose immune systems aren't as strong as others".