Baby's E. coli hospital death despite 'strict hygiene'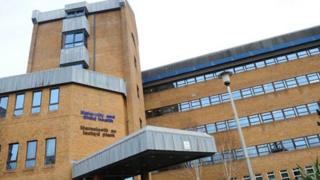 A baby who died from E. coli was being treated on the same hospital ward as the mother of twins who had picked up the bug abroad, an inquest has heard.
Hope Erin Evans was one of two babies who died at the neo-natal unit at Swansea's Singleton Hospital after getting the bug in November 2011.
The inquest heard her mother complained after finding a discarded tissue in her daughter's incubator.
But a senior doctor said hygiene policies were strictly adhered to.
Five-day-old Hope was one of three premature babies who tested positive for ESBL E. coli.
All three were delivered by Caesarean section at Singleton Hospital after their mothers were transferred from Prince Charles Hospital in Merthyr Tydfil.
After giving birth, the twins' mother showed signs of the infection and one twin later died after developing the bug and other serious medical complications.
Hope, who was being cared for in an incubator next to one of the babies, died on 4 November.
Tests carried out by Abertawe Bro Morgannwg University Health Board confirmed she contracted E. coli at the hospital while the mother and her twins caught it elsewhere.
The inquest heard Hope's mother had complained after a discarded tissue was found in her baby's incubator.
She also claimed a nurse did not replace her gloves when moving between a medicine cabinet and Hope's feeding tubes.
Resistant to antibiotics
ESBL E. coli is different to the E. coli O157 which causes food poisoning and is most often found in the gastrointestinal tract.
It is resistant to commonly-used antibiotics such as penicillin, but can be treated.
In most people ESBL E. coli does not cause harm but in vulnerable individuals it can cause serious infections.
Hospital consultant Dr Suresh Gowda admitted the unit, which has since been refurbished, was cramped and needed updating.
But he and several nurses who gave evidence said hygiene rules were strictly followed.
Neonatal consultant Dr Jean Matthes said she could not definitively say where in the hospital Hope picked up the infection.
"We know that the unit was cramped. Although staffing ratios were met, the unit was extremely busy because we had a lot of sick babies," she said.
"It was a very stressful and difficult time for all staff at the time."
An investigation by Health Inspectorate Wales found the outbreak was most likely caused by a failure to prevent infections.
The health board was given 13 recommendations for improvements.
The inquest continues.