Average speed cameras for Port Talbot M4 stretch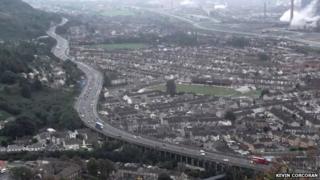 Average speed cameras are being installed on a section of the M4 where a fixed camera was removed eight years ago because it was causing tailbacks.
The new cameras will be installed later this summer within the 50mph zone on the westbound side of the motorway around Port Talbot.
In a separate move, the on-slip road at junction 41 will be closed at peak periods for a six-month trial.
The previous fixed camera was blamed for causing delays of up to five miles.
A Welsh government spokesperson said: "The fixed speed camera near between junctions 41 and 42 of the M4 westbound was removed in 2006 as it was considered to be causing unstable traffic flow which could have contributed to minor collisions.
"The installation of new average speed cameras in the area are part of a wider package of measures to improve traffic flow.
"This includes the trial junction closures but the two measures are not directly linked."
Plans to fully close junction 41 to ease congestion were amended after complaints by traders and now only the on-slip will shut and just at peak periods.
Some local businesses had described the closure plan as detrimental.