Abandoned car turned into road art at Llangadog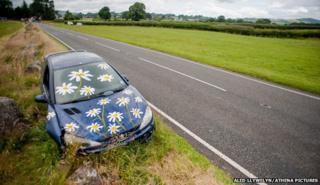 An abandoned car left by the side of a road in Carmarthenshire has been turned into a piece of art.
An unknown artist added the flowers to help the blue Peugeot blend in the countryside at Carreg Sawdde Common, Llangadog.
The artist did not leave his or her name but did leave a smiley face on the car and the words "Ha, ha".
It is not known how long the car, which has minor crash damage, has been at the side of the road.
Carmarthenshire council said it was not its responsibility for moving the car.