A waterspout forms off Gower coast at Llangennith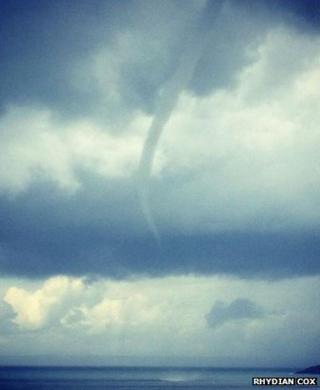 A waterspout appeared off the coast at Llangennith, Gower, on Tuesday afternoon.
It could be seen pulling up water from the surface of the sea before moving in land just before 13:00 BST.
Eyewitness Rhydian Cox from Swansea said it was "absolutely unreal" and appeared to "snake around a little".
The waterspout formed as unstable air brought heavy showers and thunderstorms to south Wales.
Thunder and lighting was seen and heard rumbling around Cardiff, parts of the Vale of Glamorgan and Rhondda Cynon Taf on Tuesday.
The summer storm saw some heavy downpours in parts of Wales, with some minor surface water flooding in places.