Tenby GP shortage action prompts anger from Simon Hart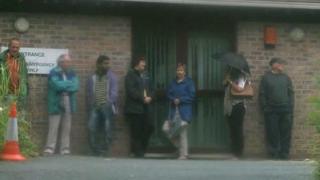 A Pembrokeshire MP has accused health bosses of not taking a shortage of GPs seriously enough.
Simon Hart claims the Hywel Dda health Board is relying on the charitable sector to help fill the gaps left by unfilled posts in Tenby.
He was sent a letter saying the British Red Cross and the RNLI was helping to provide cover over the summer months.
The health board said it is part of an additional service and the situation in Tenby was caused by four resignations.
"To be told that actually the slack is going to be taken up by their example the RNLI seem to me to be absurd," said the MP.
"The RNLI have got a busy summer ahead of them, they've got lots of things that they've got to do. They're a charity, and people pay their taxes to get a good doctors service here in Tenby.
"For the health board to simply devolve its responsibilities to the RNLI seem to me to be a bit flippant."
The health board said it has commissioned additional services, including extra locum GP cover.
Other support over the busy school holidays will include lifeguards teaming up with the ambulance service to deal with 999 calls, and even administering some drugs.
The British Red Cross is also playing a role at weekends to offer first aid.
Stuart Thompson from the RNLI said: "The lifeguards are here seven days a week, they've got all the kit they're trained.
"They're more than happy to come and help with anything so it's just a great resource for the public to use .
'Situation monitored'
"Because we are so close we can make an intervention immediately which can save lives."
In a letter seen by BBC Wales, Hywel Dda chairman Chris Martin told Mr Hart the Tenby surgery had not attracted interest for the vacant posts although they will advertise more widely and these measures were introduced to support the surgery over the summer.
He added: "Please be assured that we will closely monitor the situation and support the Tenby practice until the situation improves."
Partnership working is not new and Tenby's situation is not unique as patients across Wales are complaining about the difficulty in getting to see a doctor.
Dr Charlotte Jones from the GPs' Committee in Wales said: "GPs across the whole of Wales are experiencing considerable pressure on their appointments systems with the ever increasing complexity of the care that we provide, the demand for appointments.
"We deal with over 19 million consultations every year at least and also the fact that we have a problem with recruitment and retention of GPs means that there are less GPs to see patients and the ones that are there are struggling to cope with the demand.
"Certainly I think the situation is only going to get worse."