Teen admits jumping on and damaging £245k McLaren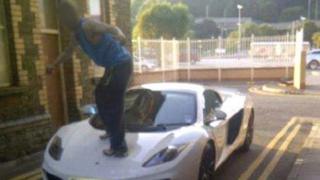 A teenager who jumped on the bonnet of a £245,000 supercar has admitted criminal damage.
The 17-year-old, who cannot be named for legal reasons, was caught after he posed for pictures of him standing on the McLaren 12C Spider in Port Talbot.
South Wales Police arrested him after seeing a picture on Twitter and Swansea Youth Court heard he caused £11,000 worth of damage to the carbon fibre bodywork of the 207mph car.
He will be sentenced at a later date.
Julie Sullivan, prosecuting, said: "The car had scuff marks on the bonnet which have since been repaired."
The driver parked it on double yellow lines in Port Talbot while he went into a restaurant.
The businessman saw a crowd of teenagers taking pictures but thought "that is to be expected" with a top end car.
James McKenna, defending, said: "This is a novel case. You don't get many cars like that in Port Talbot."