Escaped vulture from Pembrokeshire Falconry found safe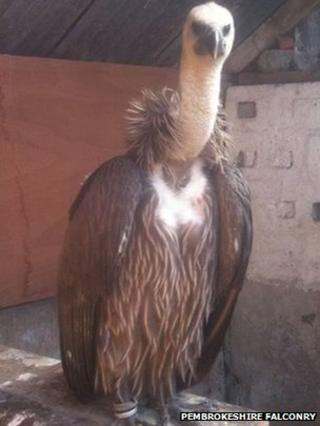 An escaped vulture who broke through the roof of his aviary has been found.
The six-month-old bird was reunited with its owners, Emma and Alex Hill from Pembrokeshire Falconry, near Narberth, on Monday.
A neighbour found the Spanish-born scavenger on his land, just two fields from where he went missing last Saturday.
"He came running across the field towards us when we called him, so he was quite happy," Ms Hill said.
The white-backed vulture had only been at the falconry for 10 days when it made its bid for freedom.
"He's only six months old and we've just discovered he's never had a roof above his head so we'll have to make a mesh roof so he can see the sky," Ms Hill said.
She said the bird is known as nature's dustbin and would have spent the last few days in the wild feasting on roadkill.