Vulture escapes from Pembrokeshire Falconry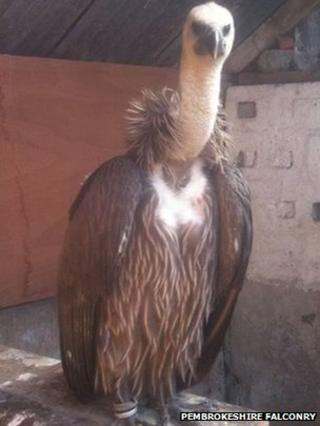 The hunt is on after a vulture escaped from its aviary in Pembrokeshire.
The bird smashed through roofing above its perch at Pembrokeshire Falconry, near Narberth, say its owners.
Alex and Emma Hill stress it does not pose a threat to livestock or people - but should not be approached in case it bites. They say it is a scavenger and does not hunt live prey.
The white-backed vulture from Spain had only been at the falconry for 10 days when it made its bid for freedom.
"The bird is quite tame, but it could still give someone a bite if they tried to capture it," said Mrs Hill.
"We are concerned for it, as it has never had to fend for itself."
'Nature's dustbin man'
The Hills said the bird does not pose a threat to other animals.
"That's something we want to get across, especially if farmers or landowners spot it and are worried about their livestock," said Mrs Hill.
"It doesn't kill - it is a scavenger, it is nature's dustbin man, and will be looking for dead animals in fields or roadkill."
The couple said there had been several sightings of the bird since Saturday.
"By the time we have found out - it has been too late, and the bird has moved on," she said.
Anyone who spots the bird should contact Pembrokeshire Falconry.