Powys wildlife poisoning fear after dog and red kite deaths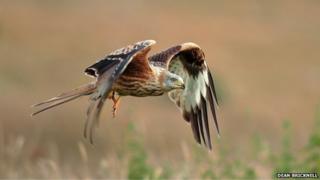 A dog died after being poisoned while on a walk with its owner, say police.
The owner raised the alarm after the incident in Llangynog, Powys, in May and test results show the dog had been poisoned by pesticide, Aldicarb.
Sgt Matthew Howells from Dyfed-Powys Police said a red kite was poisoned last year raising concern wildlife is being targeted.
Evidence showed the dog had ingested the remains of a black bird which was suspected of having the poison on it.
The officer said the area was popular with dog walkers and he urged anyone who comes across dead wildlife in the countryside not touch it and contact the police if foul play is suspected.
Farmers are being urged to destroy old stocks of the pesticide which has been banned since 2007.
Birds of prey have been legally protected in the UK since 1954.
The RSPB said it recorded 15 crimes against birds of prey in Powys in 2012, out of 35 across the whole of Wales.