Swansea's Bishop Gore School prom arrival by helicopter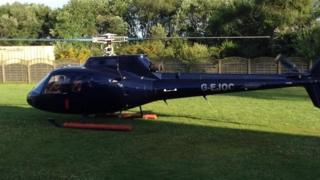 When a Swansea school offered a prize for the best entrance for their end of year prom - there was only one winner.
There was a convoy of limousines, a Mercedes and one Year 11 pupil even arrived in an ice cream van.
But twin sisters Elle and Fern, 16, made heads turn skywards as they landed in a helicopter owned by a family friend.
"We were completely unaware of it, it was a complete surprise," said Bishop Gore School head of year Tanya Jones.
"We were getting ready to have a group photograph outside when the helicopter arrived - it was fantastic."
The event was held at a hotel at Jersey Marine for pupils who had finished their GCSEs.
"It certainly gives our Year 10 pupils something to think about when it's their turn next year," said Ms Jones.