Hanging baskets to spruce up Swansea recycling centre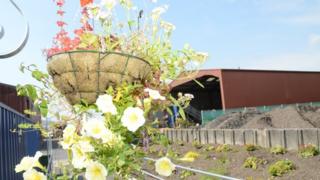 Hundreds of perennial flowers destined for the compost heap have been recycled at a recycling centre in a bid to spruce up the site.
Visitors to Swansea's largest recycling centre in Llansamlet are greeted by hanging baskets when they come to get rid of their waste.
Staff wanted to brighten up the place and create a more welcoming atmosphere for those dumping their rubbish.
Swansea council took over running the site last year.
"Having carried out lots of improvement we also wanted to try and make the site look pleasant," said councillor June Burtonshaw.
"Just because it's a site that deals with hundreds of tonnes of waste, it doesn't need to look like a rubbish tip."
She added: "We managed to save lots of hanging baskets from being disposed of and have replanted them along the borders of the baling plant.
"They have really brightened up the place.
"Some of our staff now go for walks around the perimeter of the site during the lunch hour because it's a much more pleasant place to be."
Two years ago, the council opened up a shop at the recycling centre selling items that people were about to throw away.
Goods on the shelves at The Corner Shop at Swansea's Llansamlet recycling centre included a Jason and Kylie mug and Bully, the mascot from 1980s game show Bullseye.