D-Day veteran Gordon Prime lands Legion d'Honneur in France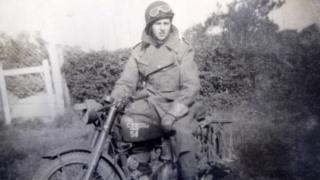 A Welsh D-Day veteran whose life later hung on the toss of a coin has been awarded France's highest honour.
Gordon Prime, 90, from Jameston near Tenby in Pembrokeshire, received the Legion d'Honneur medal for his heroism as a motorcycle dispatch rider.
He began at Pegasus Bridge at the heart of the Normandy landings and was still serving when Nazi Germany was defeated.
Days before the war's end, Mr Prime and a pal tossed a coin to take different routes and his friend was killed.
He was one of 22 veterans to receive the honour at the 70th anniversary of D-Day.
Then aged 20, he landed on Juno beach on D-Day at Courseulles driving a truck loaded with petrol and ammunition with his motorcycle in the back.
He said: "There were a lot of vehicles on fire and smashed up. And there were a few dead bodies about.
"But the thing was to get off the beach as quick as you can."
He was with 89 Company, Royal Army Service Corps (RASC) attached to the Canadian Army and his mission was to supply units with rations, petrol, diesel and anything else they needed.
From the following day, Mr Prime risked his life daily riding his Matchless 350cc motorcycle under fire to and from the front line to deliver ammunition, food and fuel.
He said: "You didn't know where you were sometimes. A lot of dispatch drivers drove in to German lines and were taken prisoner.
"It makes you wonder how we did it. You had a compass and map and you had to know where you were going.
"Our company motto was "bash on regardless" and that's just what we had to do. You couldn't give up - it would have been letting your mates down."
He survived the war from the liberation of France and Belgium, through the disastrous Operation Market Garden in Holland and eventually the fall of Germany.
Perhaps his closest brush with death came just days before the war in Europe ended.
He said: "My number one pal was Bert Tinscombe. We trained together as motorcycle despatch riders and we went through into France together.
"We worked side by side and shared everything.
"Ten days from the end of the war, we tossed a coin to see which one of us would take a certain route, and he got blown up."
Mr Prime was due to fight in Japan in 1945 when the Americans dropped the atomic bomb on Hiroshima and Nagasaki and the war ended.
He was presented with his medal during his 70th anniversary trip.
He said: "It was pretty emotional. I couldn't get over the amount of people wanting to shake my hand and say "merci beaucoup".
Mr Prime founded the Birmingham and Pembrokeshire branches of the Normandy Veterans Association.
He said: "I sometimes feel guilty. They didn't make it and I did. I always think about the lads we left behind in Normandy."