Tata Steel acts to address dust problem in Port Talbot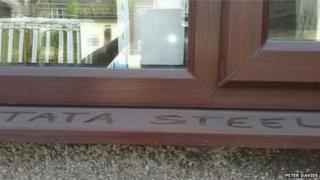 A steelworks which was served with an enforcement notice after a major fallout of black dust has completed work to cut pollution.
The dust from Tata Steel's Port Talbot plant in July 2013 prompted complaints from residents after it fell on to homes and cars.
Natural Resources Wales (NRW) said issues have now been addressed.
Tata found the main source of the dust came from where raw materials are kept and moved into storage silos.
The firm had to make a number of improvements to ensure that releases of dust are kept to a minimum, according to Paul Gibson from NRW.
"By issuing this notice we have ensured the impact of dust pollution has been reduced for the people of Port Talbot," he said.
"We also recognise and commend the additional measures the company has put in place to minimise dust releases from the steelworks and believe this investment highlights Tata's commitment to reduce dust emissions and develop further environmental improvements."
NRW will be writing to residents who reported the dust problem to provide further details of the action taken.
After the incident, Tata Steel said it had altered production techniques and spent £800,000 on a device to wash dust off vehicle tyres.