World War One: How factories produced social change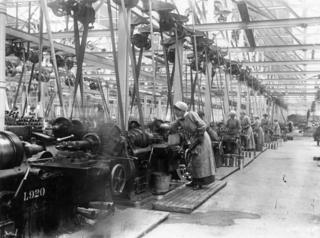 At the outbreak of World War One around a million workers - mostly women - flocked to jobs in munitions factories such as Nobel's TNT plant in Pembrey.
The pay and hours were better than in agriculture or domestic service, and women in particular found the work freed them from the social restrictions they had experienced as maids.
Yet this freedom came at a price; many hundreds died in explosions such as one at Pembrey on 1 August 1917, while an incalculable number suffered life-long health problems after exposure to toxic chemicals.
Though as well as the long-term consequences, there were also benefits which altered society forever.
At the height of the war, the Pembrey complex across a warren of underground bunkers was producing 300 tons of TNT per week and 200 tons of cordite, as well as filling and salvaging millions of shells.
The utmost care was taken to ensure nothing which could spark an explosion was taken inside the bunkers.
Rubber over-boots were worn, and workers were patted-down for metal jewellery, matches, and even sweets, as sugar could potentially react with the chemicals used.
FACTORY LIFE
A policewoman, Gabriella West, was posted to Pembrey in 1917, and described it in her diary:
"Particles of acid land on your face, like pins and needles, but much more so.
"They get on your clothes, and on your handkerchief, and on your skin and in your eyes, so that you are left blind and speechless."
The women who worked at the Nobel plant came to be known as Canaries, as their skin turned yellow through exposure to nitrous fumes over time.
The same fate even befell the rabbits who lived on the grassland above the bunkers.
But whilst they took their toll on the women's bodies, according to Swansea University WW1 expert Dr Gerry Oram, the munitions factories only served to strengthen their wills.
"The increasing confidence demonstrated by female munitions workers can be partly explained by their greater disposable income, partly by the fact that they are proving themselves in traditionally male roles, and partly because unlike in domestic service, their jobs don't demand that they conform to some sort of class-based sense of decorum," he said.
Dr Oram said more than anything it allowed women to mix with others from different parts of the country and different classes, exchanging attitudes and ideas.
Though on 1 August 1917, that burgeoning confidence was shattered, when an explosion ripped through the Hill 60 sector of the works.
Four men were killed, but as Welsh historian Prof Deirdre Beddow explains, it was the funeral of the two women who also died which drew the most attention.
'Swept away'
The coffins were on carriages, draped in the Union Jack, which was usually reserved for the military.
"Here's the mind-blowing thing, the pallbearers walking alongside the coffins are all women; wearing their triangular badges reading On Government Service, said Prof Beddow.
"It was really a military funeral but honouring a woman."
The image, according to Dr Oram, is indicative of how such events changed women's lives for ever.
"I by no means wish to trivialise the sacrifices of the women who died and suffered serious illness in the munitions factories, but undoubtedly there were great benefits.
"In the same way as during the 19th Century middle class men had swept away the arguments of the gentry that they were the only group capable of exercising the vote, after the role women played in WW1 nobody could make a tenable case for continuing to deny female suffrage."
Dr Oram argues that the women who did most to break down the barriers of sexism - young working class girls - were the ones who benefitted the least by post-war reforms.
It would take until 1928 before women would have the vote on an equal age and property basis to men.