Bid to save Gower's unique yellow whitlowgrass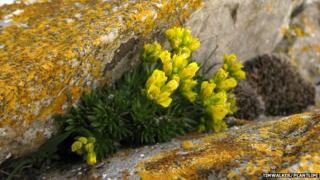 Work is under way to save a rare wild flower that only grows on the Gower Peninsula.
Yellow whitlowgrass and other coastal plants are under threat from invasive, non-native cotoneaster, says environmental charity Plantlife.
The garden escapee has invaded large areas of pristine habitat on the south Gower coast, smothering fragile wildflowers, mosses and lichens.
Plantlife is working to save the plants on land owned by the National Trust.
Plantlife will spend the next two years removing all the cotoneaster and restoring the area back to its natural mosaic of limestone grassland and open rocky slopes, allowing the special coastal flowers and plants found there to flourish once again.
Invading plants will be removed from around 10 hectares (24 acres) along Gower cliffs and conservationists hope this will preserve habitats for wildlife, and save threatened coastal plants.
The work has been funded through a Biffa Award by the environmental body.
Plantlife's species recovery co-ordinator Tim Wilkins said: "The Biffa Award funding will make a real difference to this special landscape because, without action, some rarities would become extinct here.
"Gower is home to some of the UK's rarest wildflowers, lichens, liverworts and mosses but they are currently under serious threat.
"Swathes of habitat have already been devoured by a carpet of cotoneaster.
"Over the next two years we will be working with our partners the RSPB and Natural Resources Wales to reclaim lost habitat for a host of wild flowers, butterflies and other insects that depend on the open maritime slopes and limestone grassland."
Another plant under threat in the area is juniper, the gin-giving bush, which is declining so rapidly that it could become extinct in the UK in the next 50 years, says Plantlife.
Basil-thyme, which produces violet flowers, has not been found in the area for 25 years but this month Plantlife experts discovered up to 40 plants growing, just a few feet away from cotoneaster.
Plantlife said cotoneaster arrived in Britain 200 ago after plant hunters brought it back from China and the Himalayas.