£200m gas power station proposed for Swansea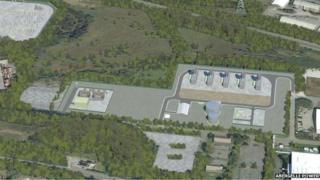 A £200m gas-fired power station capable of powering up to 400,000 homes could be built near Swansea under new plans.
Abergelli Power wants to build the plant at Felindre, just north of the M4.
It would offer a back-up energy supply to compliment wind and solar power sources - operating for about 1,500 hours a year, say the firm.
The company said 150 jobs would be created during construction and 15 full-time jobs once it was operating.
It is also planning a similar project at Hirwaun in Rhondda Cynon Taf.
The company said it plans a series of consultations with local people before applying for development consent.
UK decision
Norman Campbell, Abergelli Power's project director said: "This power station will be an ultra modern and clean facility and a very significant investment in the local economy.
"We will seek to maximise local economic benefit where we can, both during construction and operations."
The plant would be classed as a 299 megawatts station, which means the final decision on granting planning permission would lie with the UK government.
Abergelli Power, which is owned by Scottish based firm Watt Power, says it will ask the UK Planning Inspectorate for a development consent order in 2015, after consultations with Swansea council and the Welsh government.
A final decision on approving the project would be made by the UK Energy Secretary.