Affordable homes drive for Pembrokeshire national park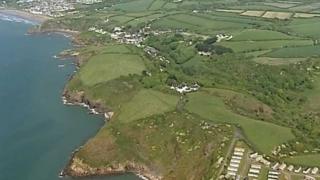 Attempts to build affordable homes in the Pembrokeshire Coast National Park could be boosted by relaxing rules on development.
It follows concern that local people are being priced out of the housing market due to low earnings.
An average of three affordable homes were being built every year compared to a target of 35, the authority found.
Solutions could include subsidies, provision of building plots, or sites earmarked only for affordable housing.
Affordable homes are defined as those available for sale or rent at below market rates, including social or council housing.
A new planning guidance document said there was a backlog of around 460 affordable homes needed within the national park's boundaries in 2008 with between 60 and 100 more needed every year.
However, only 21 of the 289 homes built in the park between 2007 and 2013 were classed as affordable.
The average gross full-time salary in Pembrokeshire was said to be just under £20,000 in 2012 compared to around £22,500 for Wales and almost £27,000 across Britain, according to the Office for National Statistics.
Meeting needs
Consultants have worked with housing associations, landowners, estate agents and Pembrokeshire County Council to revise the current guidelines adopted in 2010.
Head of park direction Martina Dunne said: "What we are proposing in the current economic climate is a more flexible and streamlined system to help meet local housing need but which also allows room for negotiations with developers and landowners about affordable housing contributions."
The new guidance says planners could be more flexible on issues such as site design and the mix of affordable and full-cost housing if it helps make a development more financially viable.
In some cases developers could be encouraged to make plots available for self-build projects if they were unable to build affordable housing themselves.
Subsidies could also be available in the form of social housing grants from the Welsh government.
The new guidance will be discussed by the national park authority meeting in Tenby on Wednesday.
If approved it will be implemented on 1 July and reviewed after three months public consultation.
Ceri Dunstan of Shelter Cymru said the homeless charity welcomed steps to increase the supply of affordable homes as long as schemes enjoyed community support and preserved the character of the local area.
"It's not just a matter of building lots of houses - we need sustainable communities where people are able to live and work," she said.
"This is why we also believe it is vital that developments in areas such as Pembrokeshire, where house prices have far outstripped average salaries, should remain affordable in perpetuity, not sold on the open market where they are no longer community assets."