Folly Farm celebrates birth of rare Red ruffed lemurs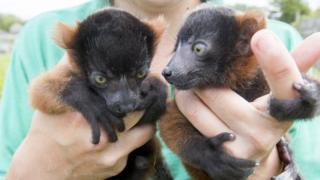 A Pembrokeshire zoo is celebrating the birth of two rare Red ruffed lemurs.
Folly Farm's lemur couple, Pogel and Louis, gave birth to twin males, called Sirius and Remus, earlier this month.
There are thought to be only 591 Red ruffed lemurs in captivity in the world, and the Kilgetty zoo said it was a "significant step" in helping to boost the species' numbers.
Red ruffed lemurs live mainly in Madagascar's rainforests, eating fruit, nectar and pollen.
Zoo manager, Tim Morphew, said: "Due to their dwindling numbers in the wild it is important that we play our part in helping to maintain a strong population of Red ruffed lemurs in captivity.
"Our Red ruffed lemurs have not produced any offspring for a few years now so we are delighted to welcome Sirius and Remus to our growing lemur family at Folly Farm."
The lemurs were named after Harry Potter characters because their keeper, Rosie Griffin, is a big fan of the JK Rowling books.
Folly Farm said lemurs are considered to be the primate at the highest risk of extinction, particularly susceptible to the destruction of habitats by humans.
A baby lemur is called a bush or galago.
They can see when they are born, but cannot move and are carried by their mothers until they are about six weeks old.