Swansea school 'sex tape' head teacher resigns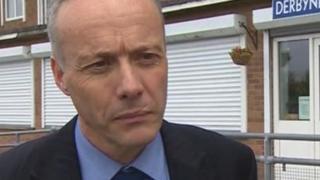 The head teacher and a colleague at a Swansea school under investigation after the emergence of what appears to be a sex tape have resigned.
Graham Daniels and the unnamed Ysgol Bryn Tawe worker were suspended last month.
It followed a complaint over a film appearing to record the sounds of people having sex being posted on social media.
The resignations were not necessarily over the inquiry, the school said.
Deputy head teacher Simon Davies took over the running of the school after the inquiry began.
On Friday, a spokesperson for Ysgol Bryn Tawe said: "The head teacher and another member of staff have resigned from their posts at Ysgol Bryn Tawe.
"Mr Simon Davies is the acting head teacher.
"It would not be appropriate to comment further at this time."
It is understood the investigation is continuing.
The Welsh-language secondary school in Penlan has around 750 pupils and received an "excellent rating" in its 2013 Estyn report.