Latest Morriston Hospital revamp plans unveiled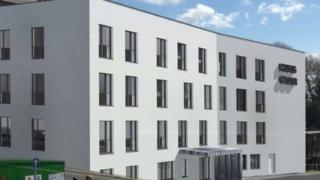 Work on the latest stage of the redevelopment of a Swansea hospital is expected to start this summer at a cost of almost £19m.
A planning application for the four-storey building at Morriston Hospital has been submitted.
It will house the diabetes centre and occupational health department, as well as clinical support staff.
Some 500 staff will transfer from what has been described as outdated and cramped accommodation.
Contractors are also close to finishing a separate £60m complex that will provide a new hospital main entrance and a variety of patient services.
It is expected that the new entrance will be open in the autumn, with the building fully in use by the end of January.