Gleision deaths: 'Everything all right' before blast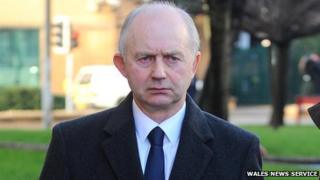 A mine manager was told "everything is all right" moments before explosives sent 650,000 gallons of water into a pit, killing four men, a court heard.
Philip Hill, 44, Charles Breslin, 62, David Powell, 50, and 39-year-old Garry Jenkins, 39, all drowned inside the Gleision mine near Pontardawe.
Swansea Crown Court heard Malcolm Fyfield was negligent by allowing them to work where underground water was.
He and pit owner MNS Mining deny manslaughter charges.
But father-of-two Mr Fyfield insisted maps of the mine were wrong and the water which killed his four workers came from the roof rather than the coal face.
The 58-year-old also claimed shot-firer Mr Hill, who was killed in the tragedy, had used multiple shots of explosives a day earlier despite being told to use single shots.
On his third day in the witness box, Mr Fyfield, who has post-traumatic stress disorder, struggled on several occasions while giving evidence.
Recalling the events of that fateful day on 15 September 2011, he said: "I got to work at around 6.30am that morning.
"I went underground, down into the stall, and inspected (the work from the previous day). I saw more coal had been blasted than should have.
"It was plain to see that multi-shot firing had carried out... against my instructions of single shots.
"I returned to the surface and spoke with Mr Hill and said 'single shots - do not use multi-shots'. He was quite agreeable."
'Get your head down'
His men then went underground and Mr Fyfield followed them shortly afterwards.
"I planned going all the way to the coal face - 450 metres from the surface," he told the court.
"(When I got there) I managed to speak a few brief words with Mr Hill.
"I asked him if all the checks had been done, and he replied 'everything is all right'.
"He then said 'everything has been completed. Everything has been done. We are about to blast. Get your head down. We are firing'."
After appearing to sway on his feet while in the witness box, proceedings were halted for around 10 minutes to allow the defendant to regain his composure.
When later asked by defending counsel Elwen Evans QC how he was coping in the aftermath of the tragedy, Mr Fyfield replied: "The truth is that I am not dealing with it."
He reiterated his insistence that he had carried out safety checks the day before the disaster.
"There was no water when I was there," he said.
And he said he still firmly believed the sudden inrush of water had come from the ceiling above and not from an area inside the mine.
"It must have come from above," he said.
Mr Fyfield denies four counts of manslaughter through gross negligence. MNS Mining has pleaded not guilty to four counts of corporate manslaughter through gross negligence.
The case continues.