Blue plaque for writer Ann Hatton, 'Ann of Swansea'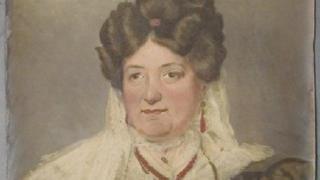 A gothic and romance novelist who adopted Swansea as her home is being commemorated with a blue plaque.
Under the "Ann of Swansea" pen name, Ann Hatton was a prolific writer of poems, novels and short stories.
She also managed the Swansea Bathing House - which was located where the Civic Centre now stands - from 1799 to 1806 with her husband William.
She died aged 74 in 1838 and was buried in St John's Churchyard, now St Matthew's, on High Street.
Born in London in 1764 and the daughter of the Kemble theatrical family, she briefly lived in New York before settling in Swansea.
Other recipients of a blue plaque in Swansea so far include Emily Phipps, a campaigner for women's suffrage; Griffith John, a missionary who was the first man of his kind to step foot in China; and Pete Ham, the founder of 1970s rock group Badfinger.