Mustang Marine dry dock sale saves nine jobs, say administrators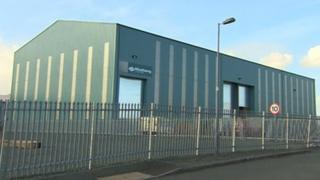 The dry dock arm of Pembroke Dock boatbuilding and repair firm Mustang Marine has been sold, protecting nine jobs, say administrators.
The firm went into administration this year after making significant losses when key contracts overran.
The business has been bought by a local industrial painting firm, one of Mustang's creditors.
The sale of the boat building and marine operation has saved another 30 jobs, administrators say.
Alistair Wardell, of administrators Grant Thornton in Wales, said: "We are delighted to have been able to conclude a deal for the dry dock part of the Mustang business, having last week finalised a deal for its boat building and marine services operation based at Pembroke Dock.
"This is very good news for the nine skilled employees who have remained working for the company at Milford Haven through the administration process.
"The new owners, who were also among the largest of the Mustang Marine (Wales) creditors, are confident in being able to grow and expand the business in Milford Haven."
Mustang Marine was founded in Fishguard in 1984 and had run the dry dock business at Milford Haven since 2012.
When the administrators were called in in February, 66 staff were made redundant, while 48 remained as the firm continued trading.