Gleision mine deaths: Photos from inside mine released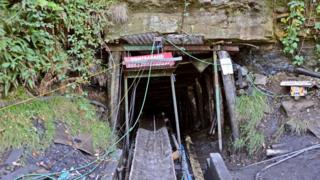 Pictures of the inside of a Swansea Valley mine, which flooded killing four workers, have been shown to a trial jury.
Manager Malcolm Fyfield and the Gleision mine's owners MNS deny manslaughter charges.
David Powell, 50, Charles Breslin, 62, Philip Hill, 44, and Garry Jenkins, 39, died when 650,000 gallons of water gushed into the area they were working in September 2011.
The Swansea Crown Court case continues.