Plumbing fault affects Swansea Bay water quality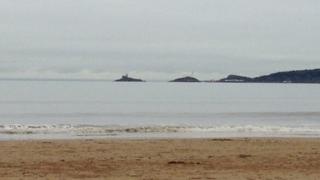 Plumbing faults at 300 homes in Swansea have affected the quality of water on part of its coastline.
Pipework from the homes in the Sketty area of the city was not connected properly, which led to sewage entering storm drains.
Much of the work has been corrected and Swansea council said the water quality has improved.
It is now urging residents to check their draining systems to ensure their homes are correctly connected.
The problem was identified following a Welsh Water survey of more than 3,000 homes as part of ongoing improvements in partnership with Swansea council and Natural Resources Wales.
Huw Morgan, pollution control officer for Swansea council, said dye testing was carried out to identify the affected homes and since repair work started, improvements have been seen.
EU regulations
Hamish Osborn, from Natural Resources Wales, said: "We've made huge headway in tackling this problem, which is one of the biggest contributing factors to water quality problems in Swansea Bay.
"We're committed to continue identifying these wrongly connected properties, but homeowners can also do their bit.
"The ConnectRight website provides information on how to check your current drainage and details of approved WaterSafe plumbers in your area."
His call comes at the start of the bathing season in Wales when Natural Resources Wales will begin testing more than 100 bathing waters across the country.
In 2008 new European regulations came into effect in the UK, which require bathing waters to comply with new standards by 2015.
Last year, Swansea council launched a daily water prediction programme to provide real time predictions on bathing quality.