Poppy seeds handed out to mark WW1 anniversary in Swansea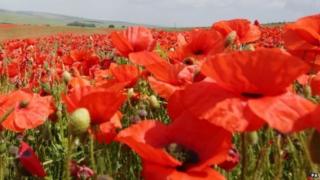 More than 35kg of free poppy seeds have been handed out across Swansea as the city prepares to mark the 100th anniversary of World War One.
It is hoped the flowers will bloom by 4 August, the date war was declared.
Swansea council has given the seeds to residents, community groups and schools to remember the soldiers who died between 1914 and 1918.
The authority has also planted poppies near the cenotaph on the seafront and outside the Civic Centre and Guildhall.
Its Armed Forces champion June Burtonshaw, said: "The planting of these seeds will lead to many thousands of poppies flowering across Swansea later this summer.
"The scheme won't just add colour to the city - it will also encourage people to reflect and remember all the local heroes who gave their lives about a century ago so that our ancestors and current generations could enjoy the freedom that many of us nowadays take for granted.
"As a council, it's important we set an example in terms of events to mark the centenary of World War One, and the interest in the free poppy seed scheme speaks volumes for its popularity and relevance."
Blaenymaes, Morriston and Craigcefnparc are among scores of schools in Swansea making the most of the scheme.
Other areas to benefit from the free poppy seed scheme include the West Street memorial in Gorseinon, outside Llwchwr Workingmen's Club and the Penclawdd memorial opposite Glanmor Terrace.