Ann Maguire stabbing: Robert Riley jailed for Twitter abuse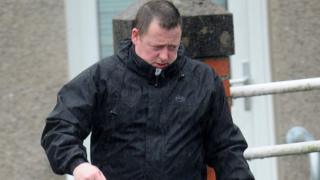 A man has been jailed for eight weeks for posting abusive Twitter messages about the death of school teacher Ann Maguire.
Robert Riley, 42, from Port Talbot, appeared before magistrates in Swansea.
Mrs Maguire, 61, was stabbed to death in her classroom at Corpus Christi Catholic College in Leeds on 28 April.
Riley previously admitted to sending a message of a grossly offensive, abusive or malicious character and was said to be "mortified by his own behaviour".
His case was originally heard in Leeds on Monday but was transferred to Swansea for sentencing.
Linda Baker, prosecuting, told Swansea Magistrates' Court that Riley, who had more than 500 followers, tweeted the name of the 15-year-old boy charged with Mrs Maguire's murder.
In the wake of Mrs Maguire's death, Riley bragged to his followers he would not just have killed Mrs Maguire but all the teachers at the school.
The jobless 42-year-old from Cwmavon, Port Talbot, also posted a series of racist tweets.
The court heard he tweeted racist and religiously offensive messages about Islam and Judaism, including one where he referred to Nazi leader Adolf Hitler and the concentration camp Auschwitz.
He was abusive towards the tennis player Serena Williams and he tweeted about 9/11 and the Korean ferry disaster, the court was told.
Georgina Scannell, presiding, said there was no choice but to jail Riley.
She added: "The offensive messages outraged the public. You had complete disregard for the tragic death of Ann Maguire.
"Besides this, countless other vile messages were made by you. The bench finds these were racially and religious aggravated.
"The offences are so serious that only a period of immediate custody can be justified."
Riley is the second person to be charged with the offence in the wake of Mrs Maguire's death.
Jake Newsome, 21, from the Harehills area of Leeds, was released on bail after being charged for the alleged abuse, police said.
He is due to appear before Leeds Magistrates' Court on 14 May.
West Yorkshire Police said a 16-year-old Cardiff boy had been arrested by police on Wednesday following complaints and bailed pending a psychiatric assessment.
A 15-year-old boy, who cannot be identified for legal reasons, has been charged with Mrs Maguire's murder and is due to stand trial in November.