Myrddin Special Unit wins £80,000 new classroom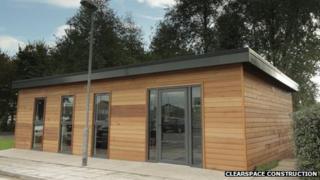 A school in Carmarthen has beaten off competition from 400 others around the UK to win a new classroom worth £80,000.
Myrddin Special Unit received 50% of the public vote after five schools were shortlisted.
The school will use the building as a technology centre to help its students with severe learning difficulties.
It will also provide physiotherapy, speech and occupational therapy sessions.
Myrddin Special Unit has around 30 children with severe learning difficulties, as well as a specialist autistic unit.
It needs a lot of specialist equipment to help its pupils, the vast majority of which is paid for through fundraising.
Specialist equipment
The new classroom will make a huge difference to its pupils, as the nearest service of this kind is over 70 miles away in Cardiff.
Fundraising is already under way to pay for specialist equipment for the new building, including a device which allows students with learning disabilities to operate a computer mouse using only their eyes.
Scott Horner of Clearspace Construction, which will build the classroom, said: "The school campaigned long and hard throughout the voting phase, getting the whole community behind them in the process.
"My team are looking forward to meeting staff and students and working with them to design and build their new Clearspace classroom later this year."
The competition was run by the Times Educational Supplement and this year attracted 400 entrants.