Good Energy invests in Swansea Bay's tidal project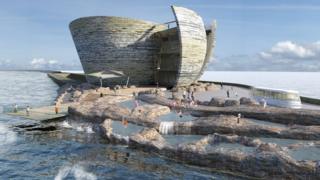 A renewable energy provider has taken a £500,000 stake in the company hoping to build a £850m tidal lagoon in Swansea Bay.
The six-mile, U-shaped seawall will go from Swansea docks to near Swansea University's new Fabian Way campus.
Good Energy, which has 40,000 customers, is investing in the project which could provide power for 120,000 homes if plans are realised.
Its founder is the wife of the chief executive of the tidal project.
Juliet Davenport's business has secured an option to buy 10% of the power output and bought a stake in the project.
Tidal Lagoon (Swansea Bay) has submitted an application to build the lagoon and, if it receives the green light, tidal power from the site is projected to be connected to the National Grid by 2018.
Good Energy founder and chief executive Juliet Davenport said: "This project will enable us to diversify our business by adding tidal energy to our existing portfolio of renewable energy generation.
"This forms part of our long-term strategy of investing in UK renewable generation assets, securing renewable electricity for our rapidly-growing customer base and playing a part in helping the UK secure its energy future."
In March, the Planning Inspectorate invited the public to make its representation about the lagoon which could provide power for 120 years.
It would take two years to build and create 1,850 construction jobs.