Daughter wins share of farm for years of low-paid work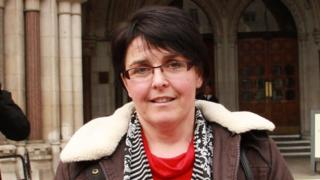 A woman who worked on her parents' farm for nothing as a teenager while her sisters were having fun, has won her fight for a stake in the £7m business.
Eirian Davies, 45, was repeatedly told she would inherit most of Caeremlyn Farm near Whitland, Carmarthenshire.
But a draft will was changed to put the farm in trust for all three sisters and in 2012 her parents tried to evict her.
The Court of Appeal ruled she was due a share of the business for the years of unpaid and low-paid labour she did.
A further hearing will determine how much Ms Davies is entitled to.
The court heard Tegwyn and Mary Davies, who are now in their 70s, assured Ms Davies she would take over the "golden egg" farm.
She had spoken of missing out on Young Farmers' Club dances with her two sisters as she had to stay at home and work.
"They always told me that the farm would be left to me. Even on my birthday, when the other girls were having things, they would say - 'you will have the damn lot one day, it will all be yours'," she said.
Mr Davies warned her not to "kill the goose that lays the golden egg" if she complained about low wages.
She received no pay at all until she was 21, and for some periods was only paid £15 per day, although sometimes more.
She said she could have made a better life elsewhere.
But her parents claimed she had earned a fair income, had free bed and board and described her as a self-employed herdswoman who would have done no better elsewhere.
Lord Justice Floyd said Ms Davies had been for years under the impression that she was running the farm in partnership with her parents, but there was nothing in writing.
She was shown a draft will in 2009 which left the majority of the farm to her. However her parents later made changes proposing to place the farm in trust for the benefit of all three sisters.
The other two daughters had left the farm to "follow other paths", the judge said, adding Ms Davies was the only one left by the time she was 21.
Her father begged her to return after she left to work elsewhere for a while.
The court also heard in 2012, they tried to evict her following a row.
An earlier hearing had ruled Ms Davies had relied on her parents' promises and had worked hard for low wages, entitling her a beneficial interest in the business.
Her parents had appealed against that ruling, but the Court of Appeal backed Ms Davies.
The appeal judge concluded: "This is in many ways a tragic case.
"The bitterness between the parties was such that each had few, if any, good words to say about the other.
"The fact remained, however, that between them they had over the years built up, by hard work, great skill and passionate dedication a prodigious Holstein pedigree milking herd and a highly successful business.
"It is greatly to be hoped that they might now be able to resolve such remaining differences as they have in relation to Eirian's entitlement without recourse to further costly and divisive litigation."