Chinese translation for Dylan Thomas poems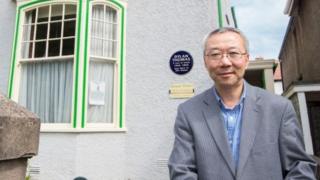 A selection of poems written by Dylan Thomas are being translated into the most widely-spoken language in the world to mark his centenary year.
Chinese translation expert Wu Fu Sheng is putting the Swansea-born poet's words into Mandarin.
Swansea University, which has funded a visit by Professor Wu to visit Thomas' birthplace, said it was the first major translation into the Chinese language.
Thomas was the second-most translated English-language poet last century.
Professor Wu is head of the Confucius Institute at the University of Utah in the USA and a professor of language and literature.
Increased ties
He has already worked on one of Thomas' most famous poems, Do Not Go Gentle Into That Good Night, and read excerpts from it and other work during a visit to Cwmdonkin Drive, where Thomas was born.
He said Thomas' poetry presented intriguing issues for the translator.
The university and local council hope the translation will lead to increased ties between Swansea and China and boost visitor numbers from the country.
Professor John Goodby of Swansea's Department of English said: "Thomas's poetry was more translated than that of any other English language poet of the twentieth century apart from T. S. Eliot, and Dylan Thomas societies flourish as far afield as the USA, Canada, Japan, Poland and Australia."